Glee.
—Refrigerator, no packaging inside
- Make environmentally friendly (unpackaged) shopping more convenient.
- Reduce waste of resources and household waste.
- Encourage more and more people to adopt an environmentally friendly lifestyle.
Glee is a sustainable refrigerator, especially for environmentally conscious people.
It changed the internal structure of the normal Refrigerator. It can reduce power consumption, consumption of plastic accessories and plastic packaging reduce in refrigerator and space in refrigerator save up.
Glee is suitable for households with 1-2 people. The total volume is approx. 140 liters. It has three doors and three cold rooms. The top is the cooling compartment, the middle drawer can between Cooling and freezing can be switched over, the bottom is the freezer in the shape of a Drawer.
The first cold room is eco-friendly shopping bag cold room. It has no container accessories like vegetable drawers, storage shelves / boxes on the door etc, which increases internal space utilization. However, it uses several wooden framed shopping bags of different sizes to realize classified food storage.
The eco shopping bag is made of a wooden frame and canvas. Can be easily installed and disassembled. Due to the angle of inclination in the refrigerator, the eco-bag is more convenient to put into the refrigerator, and the food in the bag automatically moves backwards due to gravity, which saves space in the refrigerator.
There are partitions in the eco-bag, that allow the sorting of Facilitate food.
The size of the wooden frame of the eco-bag is just right to fit in the center of the bracket to be placed under the refrigerator.​​​​​​​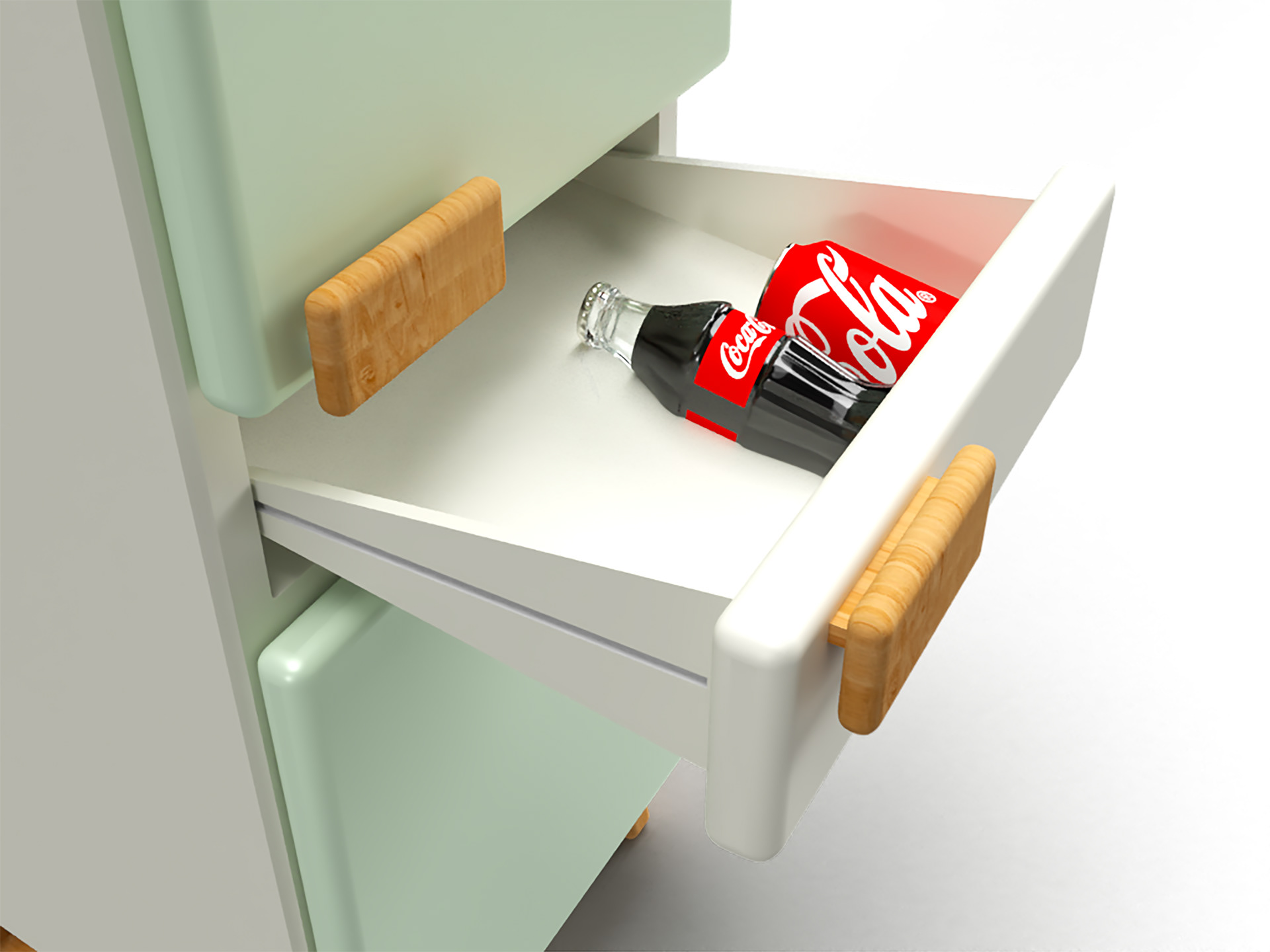 The cold room in the middle is a triangular drawer. It is used for cooling sauces and drinks or for freezing and collecting kitchen waste.
The drawer freezer with an angle of inclination of 15 ° makes it easier to open the door. And the food / containers in the freezer automatically approach the outside due to gravity, which is very easy to organize.
'Circularity in the kitchen'
Folkwang University of the Arts, Germany 2019